Greetings Musicians and Band Fans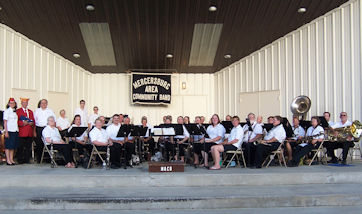 The Mercersburg Area Community Band...
.. is getting ready for a celebration of it's 36th year. We are happy you will join us again for the Summer 2021 season and we hope that you hear some of your favorite tunes and maybe some we will have some new ones.
Please visit the about us page to see our current band members and officials.
Letter to Editor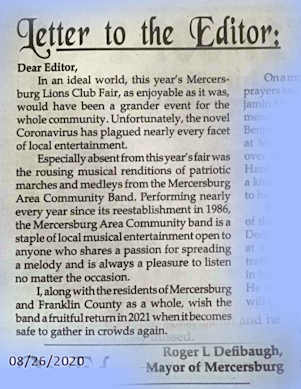 A special thank you the the Mayor of Mercersburg for his kind words in his Letter to the Editor
This year was dissappointing in many ways. The music that all the band members and "fans" love still lives in their hearts. We hope to be back stronger than ever next year and ready to deliver those beloved tunes from historic and contemporary composers like Sousa, Williams, Fagan, and many more.
Check back from time-to-time and we will try to post updates and new content when available.
Latest Puzzler
Try the newest puzzler that appeared in the 7/28/2019 program. Click here-> PUZZLER.
Sponsors and Band Supporters
As a sponsor, your coupon or advertisement could appear here or in our concert programs. The concert program is handed out, free, at performances and other venues all over the tri-county area (Adams, Franklin, and Fulton).
Your message and generosity will be seen by hundreds of people. If you are interested in sponsorship please email: gplouder@comcast.net or see the Contacts page.
Membership in the organization is open to all that share interest.
News
Due to the Covid-19 Pandemic we suspended our 2020 season. Almost all of the venues were cancelled or moved to dates outside of our performance window.
This decision was very hard for us to make, however, for the safety of everyone it is the best thing to do.
We hope you will join just next near.
Check out the News about our concerts on the Concerts page.
The Mercersburg Area Community Band is a musical organization that has served Mercersburg and the surrounding communities since its formation.
Thanks
Many thanks to all of the people who support the band and the modest efforts of the volunteer members to provide some of the music enjoyed by many. We wish everyone to be safe and healthy.
Band Members
Current Band Members (Click)

Performance Dates Open for 2021
The Mercersburg Area Community Band has dates open to perform for your community or group event.
<![if !mso]>

<![endif]>

Music repertoire includes:

· Marches

, Patriotic Songs, and Medleys

<![if !mso]>

<![endif]>